Sky*Phone
Ruggedised smartphone with fingerprint and smart card reader
The Sky*Phone is a ruggedised 5" Android smart phone with built-in smart card and finger print readers. Using the internal camera and the m*Patrol SW, it also reads the Machine Readable Zones (MRZ) of personal IDs.
REGGEDISED POWERFUL DEVICE

Sky*Phone is an Android based smart phone with 5" screen, with a 1280×720 panel with projective capacitive multi-touch. The internal memory is 2GB. The display has an optical bonding for sunlight readability. It is a ruggedised device with IP65 protection, which makes it water and dust proof. It also offers certificates from shock, vibration and drop tests.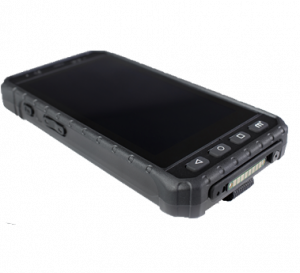 OPTIMISED POWER CONSUMPTION
Sky*Phone has a low-power consumption system. The standard battery last at least 20 hours. Tablet is equipped with a hot-swappable battery design and offers an optional high capacity battery pack. Wireless communication is provided by Wi-Fi, Bluetooth, 3G/LTE and GPS.
INTEGRATED SENSORS

Sky*Phone is equipped with several I/O connectors (2x SIM, micro USB, micro SD). The dual camera design contains 8MP main camera with LED flash and 2MP front view webcam. The law enforcement agencies may take advantage of the built-in smart card reader, that allows to read personal or vehicle IDs. MRZ zones are read by camera and the m*Patrol SW.  Sky*Phone supports NFC function and has built-in fingerprint reader, that is PIV certified.